Learn about the abundance of acid loving plants such as fruits, vegetables, flowers, and trees, that grow well in your acidic soil. From azaleas to tomatoes and more.
If you aren't sure about the pH level of your soil, here's an article on pH soil testing.
If you have soil which is below a pH of 7, but ideally hanging out at around 5.5, you could have great ground to grow an abundance of delicious fruits, vegetables, flowers, and trees.
Plants that like Acidic Soils
1. Azaleas
Azaleas are a gorgeous flowering bush great for adding a splash of color to your landscaping. They only flower in the last part of spring or earliest part of summer. However, when they bloom, they boast beautiful colors. When blooming is complete, they still offer nice green leaves which will add life to your yard. We have these planted in front of our home with rose bushes, and they keep our home looking great all year long. Azaleas like soil acid levels pH of 4.5 to 5.5 or 6.0.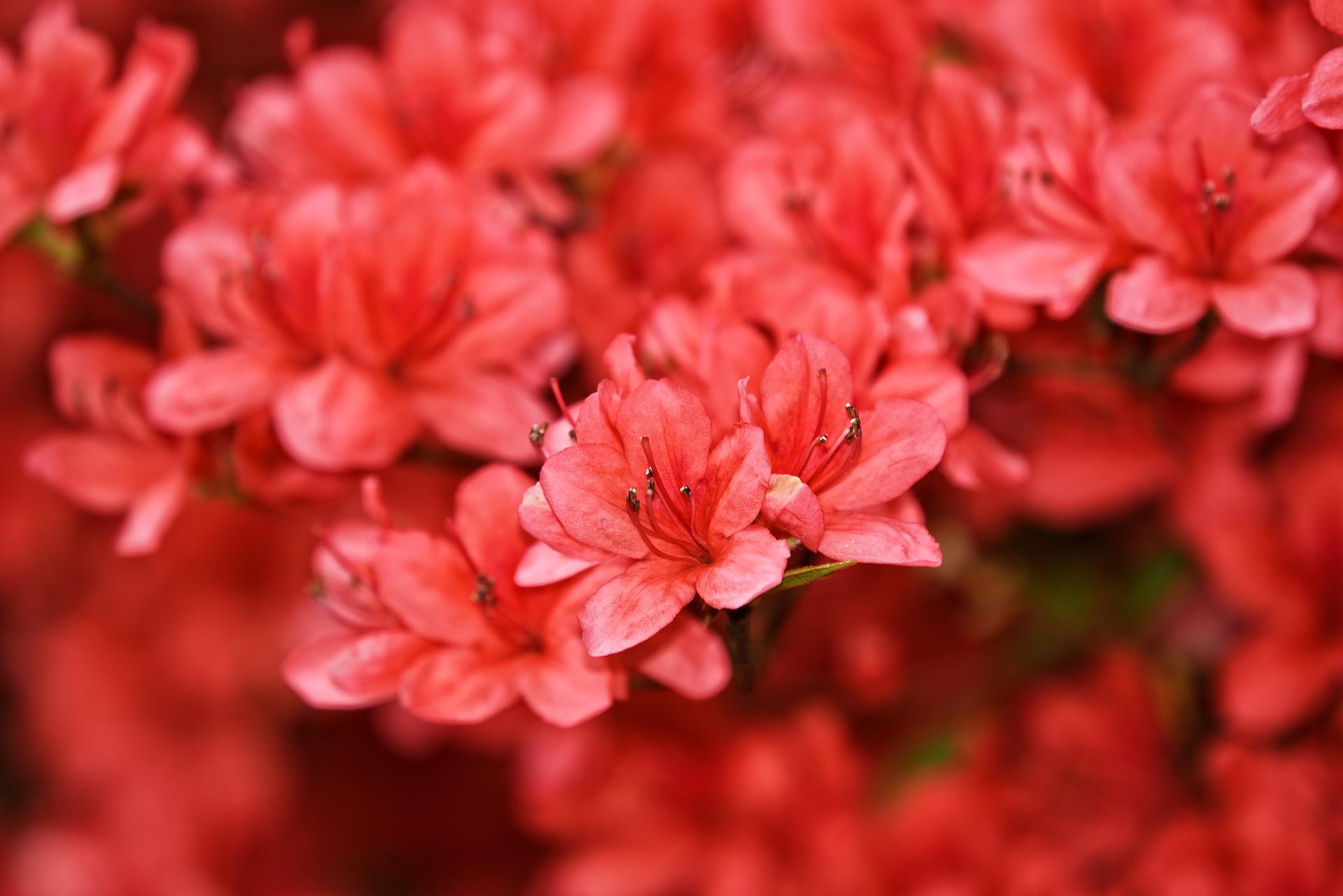 2. Rhododendrons
If you're looking for a plant which can be either a bush or a hedge, rhododendrons are exactly what you need. They bloom in the summer but are evergreen plants. Therefore, they'll be a nice, lively addition to your landscape. But if you want an acid loving plant in your yard which will also draw pollinators, this is your plant. Bees love them, and you will too! Like azaleas, rhododendrons like soil acid levels pH of 4.5 to 5.5 or 6.0.
3. Camellias.
They do best when soil pH stays near 5.0 to 6.5. This plant is another relative of the azalea bush. It produces rose-like flowers and will only bloom in the spring. However, these bushes don't handle frost well. If you live in a colder climate, you should take this into consideration prior to planting.
4. Japanese Pieris
The Japanese Pieris produces huge bunches of gorgeous flowers during the spring season. It's also an evergreen. For these reasons, it would be a great addition. You'll either have a lively plant adding curb appeal to your yard and garden. Or you'll have gorgeous blooms. Either way, it's a win for your landscaping.
5. Hydrangeas
Hydrangeas come in pink, blue, or white. For true blue flowers, the hydrangeas need to be grown in acidic soil with a pH of 5.5 or lower. The cool thing about this plant is when grown in very acidic soil, it changes the colors of the blooms. Therefore, you could have a variety of different colored blooms on one plant. Hydrangeas aren't finicky and can be grown in almost any soil type. They love water and are great for locations which receive a great deal of rain.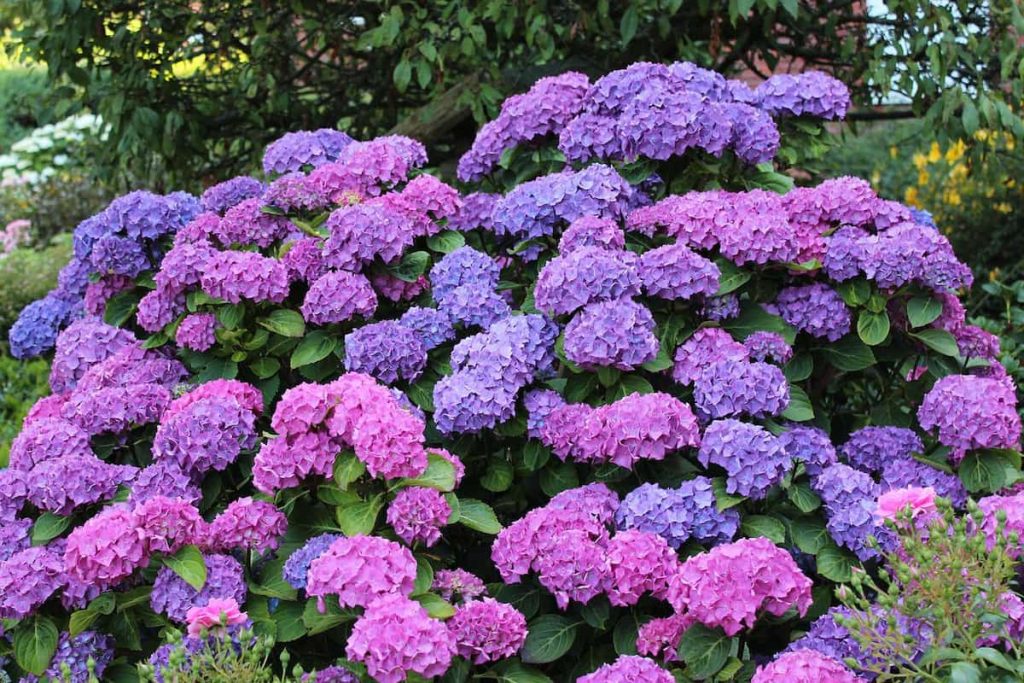 6. Daffodils
Daffodil plants prefer a neutral to slightly acidic soil pH of 6.0 to 7.0. These gorgeous flowers make you want to smile with one glance at them. They have a yellow, cheerful head which pops out of the ground at the first sign of spring. They put off a strong but delightful fragrance. Plus, growing daffodils is easy because they come from a bulb. Plant the bulb in the ground, and you'll have daffodils for years to come.
7. Heathers
They need neutral to acidic growing conditions with pH of 6.5 or less, ideally 5.5, preferably enriched sandy soil. This acid loving plant is one which loves to stretch its leaves and sprawl out. For this reason, it's a great choice to use to edge walkways and other areas. Also, if you have weeds taking over an area in your yard with an acidic soil pH, plant Heathers. They're great at suffocating weeds. Plus, the flowers they produce are loved by pollinators.
8. Nasturtium
These flowers come in yellow, orange, or red. They bloom constantly and are great for adding instant curb appeal to your property. Nasturtiums are annuals, but they go to seed at the end of the growing season. When this happens, they drop a mass amount of seeds. You shouldn't be surprised if they return on their own year after year.
9. Magnolia
When my husband and I lived in our first home after being married, we had a neighbor who planted a magnolia tree in their front flower bed. It was absolutely gorgeous. Over the years, it grew up the corner of their home and added a ton of charm. If you have acidic soil, try planting this small tree. It will grow over the years, and this should be kept in mind when planting. Magnolia trees produce gorgeous pink or white blooms which have a unique rounded shape to them. Magnolia grows best in acidic (pH 5.0 to 6.0) well drained, loamy, moist, rich soils.
10. Marigolds
Marigolds are the flower of all flowers. For marigolds, you should have a soil pH of 6.0 to 7.5, perhaps as low as 5.8. They are bright and will easily draw your eye to them. If you're needing to brighten up a spot in your yard or garden with acidic soil, marigolds should be your go-to. However, as great as they are at providing color, they provide many other benefits for your garden. They are great at deterring pests and are a helpful companion plant to many other flowers, fruits, and vegetable plants.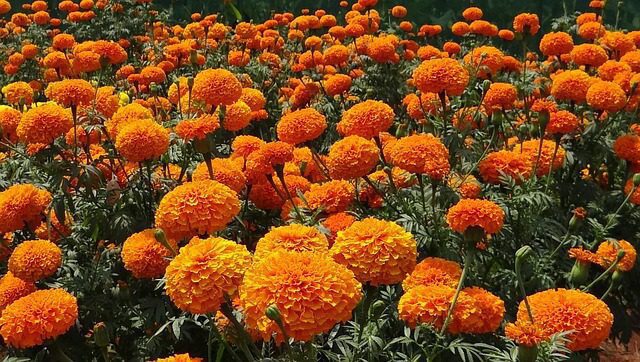 11. Fothergillas
This is a shrub which loves acidic soil. It also produces pretty white flowers which carry a delightful scent too. When they bloom in the spring and summer, they produce the traditional white bloom. However, in the fall, this shrub will produce blooms which are purple, red, yellow, and orange in color.
12. Holly
Holly is a magnificent plant to landscape your home year-round. It's a beautiful green, backup singer to the gorgeous flowers you plant during the warmer months. However, in the winter, it produces a touch of color to an otherwise drab landscape because of the gorgeous red berries it produces.
13. Gardenias
Gardenias are not an easy to grow. They require an organically-rich acidic (pH 5.0-6.5) soil with good drainage. They're traditionally grown in the south because of their sensitivity to cooler temperatures and desire for humidity. Because of their specific needs, they can be difficult to grow and higher-maintenance in other climates. If you aren't afraid of a little extra work, this could be a beautiful shrub for your landscape which also produces nice blooms as well.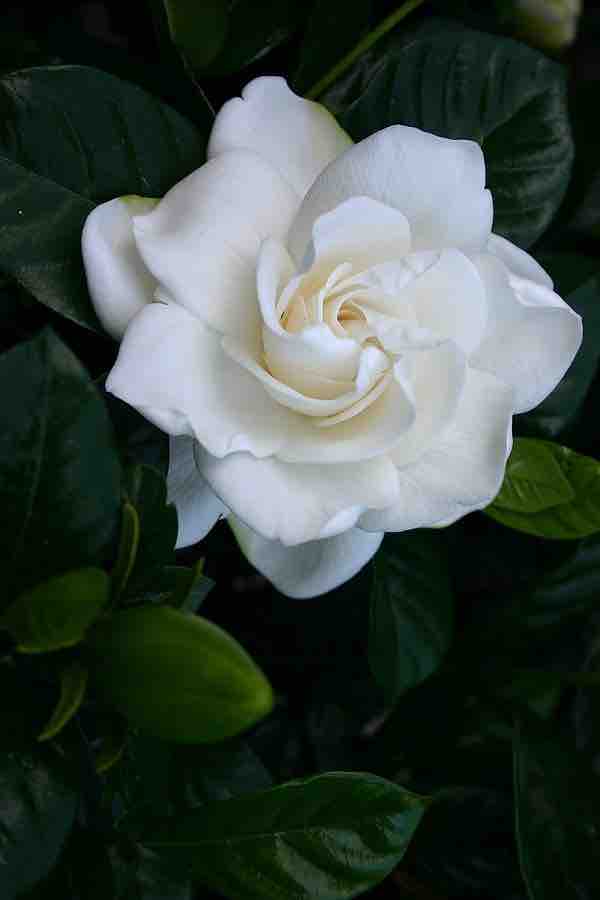 14. Iris
This plant is an acid loving option which is easy to care for. Iris, like most perennials, prefer neutral to slightly acidic soil (pH of 6.8 to 7.0 is ideal). As a perennial , it'll come back year after year. Irises bloom in purple, blue, and white. They also adore wet climates which make them a great choice for those who receive a great deal of rain.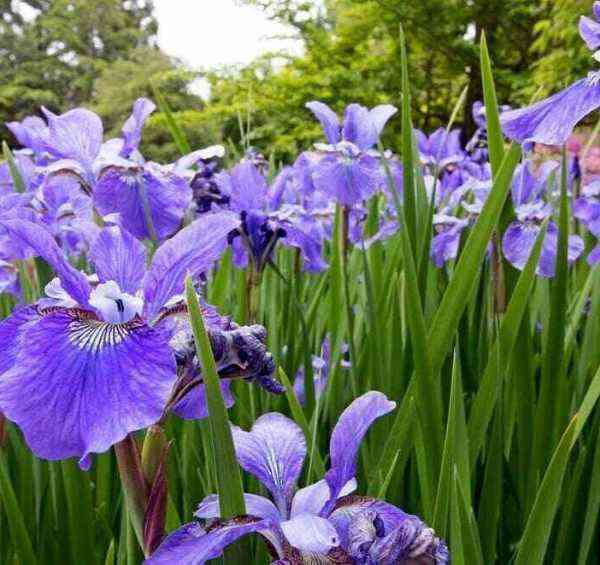 15. Begonias
Begonias were one of my grandmother's favorite flowers. She planted them in her yard almost every year. They're bright, beautiful flowers which light up your landscaping. They're easy to grow and love acidic soil. Begonias grow well in a broad pH range, the recommended medium range of 5.2 – 6.0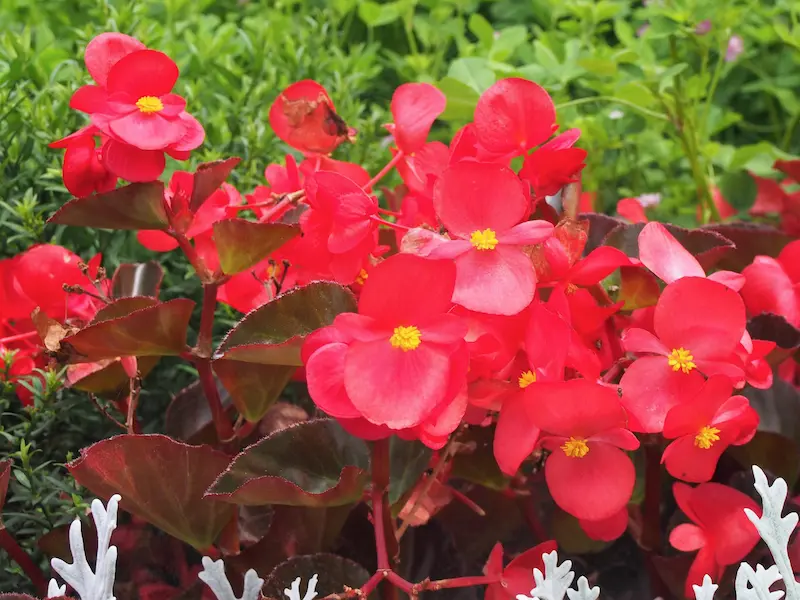 16. Caladium
If you want a plant which produces colorful foliage instead of waiting for it to bloom, this could be a great option for you. Caladium produces leaves which are vibrant and colorful. They have streaks of green, white, red, and pink on them. They're great both in beds and used for edging. Plus, they add a subtle hint of color to your yard.
17. Dogwood
Dogwood trees are gorgeous and a personal favorite of mine. They produce white, pink, or red blooms during the spring. However, they only bloom for about two weeks to a month during this time. Yet, they still add a burst of color with their green leaves during the summer and again during the fall when they produce purple leaves. Consider the Red Osier Dogwood. Dogwood trees prefer an acid to neutral soil ranging from 5.5 to 7.0
18. Beech Trees
If you don't live on a larger property, this isn't the tree for you. However, if you have a wide-open space which needs shade, you'll love a beech tree. Keep in mind, you should grow beech trees where most won't walk. They produce lower branches which can easily trip you up. Also, plant them where you don't plan on planting anything else. Because of the great deal of shade they produce, it can be hard to grow many varieties of plants.
Fruit and Vegetables that like Acidic Soil
19. Radishes
Do you desire to grow something in your acidic soil which will give you something tasty to eat and quickly?
Well, you should consider growing radishes. They take only 45 days and can be a great addition to your salad or to be eaten as a snack. Any well-drained, slightly acidic to neutral soil with pH 6 to 7 will do.
20. Sweet Potatoes
We recently planted our sweet potatoes. They enjoy acidic soil and are a delicious item to have around for meals.
Keep in mind, sweet potatoes will have to be cured prior to your enjoyment. Curing is what turns their starchy flavor into their sweet goodness we all love. A moderate to slightly acid soil with a pH of 5.6 to 6.5 is recommended for sweet potatoes. Note that levels of 7.0 may result in plant diseases.
21. Parsley
Parsley grows best in well-drained soil that is rich in organic matter, with a pH range of 6.0 to 7.0. Do you grow a herb garden? Herbs are a delicious addition to any meal, and they're simple to grow as well. If you have acidic soil, consider growing parsley. It loves a lower pH and can be dried for later use or added to any meal as is.
22. Peppers
There are many different varieties of peppers. If you love heat, you can grow peppers to add to your meals. If you love milder flavors, you can grow varieties of peppers which only give you their sweet flavor. Either way, peppers are a great option to grow in acidic soil. They like pH levels of 6 to 8, depending on the variety.
23. Potatoes
I've already mentioned sweet potatoes, but we can't forget white varieties of potatoes either. They're versatile for many different meals. But they're also a great addition to a garden which only has acidic soil to work with. The ideal soil pH level for potatoes is somewhat acidic, between 6 and 6.5. If you need a vegetable to grow in these conditions, consider raising potatoes.
24. Rhubarb
Rhubarb is an interesting plant. It's a vegetable with a sweet flavor. Because of its sweet flavor, it's usually paired with fresh fruit in desserts. Rhubarb is also a perennial. This is great news because you plant it once and can enjoy it for years to come. What a great way to put acidic soil to use! A deep, rich, well-drained, sandy loam with a soil pH of 6.0 to 6.8 is ideal for rhubarb production.
25. Blueberries
Blueberries are really special: they require the soil to have a pH between 4.3 to 5.5 pH. When I consider growing something in acidic soil, blueberries are the first thing which comes to mind. They adore acidic soil and thrive in it. We have a gorgeous blueberry patch on our property, and it produces well year after year. If you're looking for a delicious way to use your acidic soil, consider planting a few blueberry bushes.
26. Cranberries
Many people scoff at the idea of growing cranberries in their acidic soil. The reality is, you don't have to live underwater to be able to grow your own cranberries. They aren't the easiest plant to grow, but once you get the hang of it, you could have your own cranberries being produced from the acidic soil you thought would be your demise. Cranberries prefer low pH 4.5 – 5.5.
27. Currants
They need well-drained soil with plenty of organic matter and a pH between 5.5 and 7.0. Currants are a delicious fruit you can grow in acidic soil. They can be used to make homemade jams when they produce each year. If you like to have a variety of berries on your property which will grow well in your current soil pH, don't overlook currants. They could be what you're looking for. Not to mention, you plant them once and enjoy them for years to come.
28. Elderberries
Elderberries can be a difficult plant to locate. The reason being is they have many medicinal properties and people seek these plants out as much as they can. If you have the opportunity to raise elderberries you should. They're delicious and a versatile fruit as well. However, they grow best in moist, fertile, well-drained soil with a pH between 5.5 and 6.5.
29. Gooseberries
I laugh when I hear the word gooseberries. The reason being, when I was growing up, I'd hear of people making gooseberry pies on television. Until I grew older, I didn't realize they were a real plant. However, I'm happy to tell you gooseberries are not only real, they're delicious. Plus, they grow well in acidic soil too.
30. Beans
Beans grow best in slightly acidic to neutral soil, pH between 6 and 7. There are also a wide variety of plants which don't love it, but they can still thrive in it. Beans and the plants following hereafter fall into this category. Beans are great producers and can be preserved each year to feed you or your family fresh foods even during the cold winter months.
31. Broccoli
Broccoli is another vegetable which can adjust to being grown in acidic soil. It prefers colder temperatures which makes it ideal to be planted at some point in most climates. The only downside to broccoli is you must grow a larger quantity of it if you would like to have any to preserve for later use. Broccoli grows best in full sun and where the soil is slightly acidic — with theBroccoli grows best in full sun and where the soil is slightly acidic — with the pH between 6.0 and 6.8
32. Cabbage
Cabbage like soil Broccoli grows best in full sun and where the soil is slightly acidic — with the pH between 6.0 and 7.0. We grow our own cabbage every year. It's delicious and simple to grow as long as you have a cool period for it to grow in. Also, cabbage is great because in most climates it can be grown twice a year. If you'd like a vegetable to grow in your acidic soil, consider cabbage.
33. Carrots
Carrots are great vegetables to grow, and like pH between 5.5 and 7.0. They're root vegetables and require very little fuss. It's not surprising they can still thrive in acidic soil. If you enjoy cooked carrots or like them raw for a snack, consider adding them to your garden. Don't let the soil pH stop you. They're also easy to preserve too.
34. Cucumbers
If you enjoy fresh pickles, you must plant cucumbers. Keep in mind, cucumbers are not only simple to raise, but you don't need many plants. They're high producers and have numerous varieties to meet your needs. Whether you plan to enjoy them fresh or as pickles, cucumbers are a great option for acidic soil.
35. Onions
Do you enjoy cooking with onions? What about eating them raw? Before I met my husband, I had a strong aversion to onions.
However, he could eat them breakfast, lunch, and dinner. After a decade of marriage, I love them too. Therefore, it's no surprise we grow them every year. If you love onions and have acidic soil, consider growing them.
36. Squash
I love squash. I love eating it, and I love growing it. Squash is delicious sautéed, fried, or included in a casserole. But I love growing it because I can plant only a few plants and have enough to eat, share, and preserve. Plus, they require little effort.
37. Sweet Corn
I'm a summertime girl. I can't help it. I love the food which grows during this time period, and I love how you can raise most of it in acidic soil.
Sweet corn is no exception. It's easy to grow and produces a delicious harvest. Not to mention, you can preserve it too. If you'd like to grow a tasty veggie in your acidic soil, go for sweet corn.
38. Tomatoes
Who doesn't love tomatoes? If you have acidic soil, put it to use in growing delicious tomatoes. It can be eaten raw, added to a salad, put on a sandwich, turned into salsa, make homemade ketchup, and preserved in a ton of other ways too. They will grow in more acidic soils, down to 5.5 on the pH scale and up to 6.8. They also prefer soil that is fertile and well-drained with plenty of organic material.
39. Turnips
Turnips are a wonderful vegetable to plant in acidic soil. You get major bang for your buck. When turnips grow, they produce leafy tops and a turnip below the soil.
The leafy parts are referred to as greens and taste delicious. The turnips have a more distinct flavor, but many people love them. How many vegetables can offer two meals from one veggie?
40. Apples
Apple trees can grow well in acidic soil. What's wonderful about them is there are tons of different varieties to choose from.
You can grow apples which produce a tart flavor or a variety which is sweeter. Apples are a healthy snack, great for baking, can be dried, or turned into applesauce.
41. Grapes
We have a vineyard on our farm. It's gorgeous to look at it, but it tastes great too. Grapes are another fruit which can tolerate acidic soil within reason.
Keep in mind, grapes are a wonderful addition to your property. You can eat them fresh, juice them, or make your own homemade jellies.
42. Raspberries
Raspberries is a fruit which can be flexible, they prefer acidic soils pH of 5.5-6.5. It grows in a variety of soil types, but can still handle slightly acidic soil. This is a low-maintenance fruit which will return for years to come. If you like to make jams, jellies, pies, or enjoy a tart tasting fruit, this could be what you need.
43. Strawberries
Finally, you can grow strawberries in slightly acidic soil as well. They're a great addition to any property as they produce offspring each year and will return year after year. Strawberries can grow in nearly any soil type but prefer a well-drained loam soil with a pH above 6.0
Also, you can decide which variety of strawberries to grow. This will determine if you keep a harvest for months or if they'll all come in at once. If you're a canner, you might prefer to have the fruit come in at one time. If you'd like them to graze on or bake a few pies, you might prefer to have them come in over the duration of a few months. Well, you now have over 40 options for fruits, vegetables, trees, and flowers which can thrive in acidic soil. The only thing left to do is decide which would be most functional for your property and get busy planting.
Link to a table with pH values
Farmer's Almanac has a pretty good base table of pH values for a large variety of plants here. But the table is not just plants that like acidic soil, it's many more plants.
Fertilizer for Acid Loving Plants
Commercial Fertilizers
Ask your nursery for a fertilizer containing ammonium sulphate, ammonium nitrate, elemental or granular sulphur, iron chelates or sulphate, epsom salts or sulfur coated urea. Apply with caution and carefully follow the instructions, since too much of these fertilizers may burn out the roots.
Natural Elements
Natural substances that can boost solid acidity include fish tank water, peat moss, pine needles, coffee grounds, organic compost, and egg shells. Many of these elements also supply critical components like nitrogen and magnesium.
Conclusion
That's it for our tour of acid loving plants, or plants that like acidic soil. Happy gardening!
Related
Seed Potatoes vs Potato Seeds – a Botanical Conundrum
Blue Green Lavender Magenta Maroon Orange Pale blue Pink Purple Red White Yellow
Tags:
Apple
,
Azalea
,
Bean
,
Bee
,
Beech
,
Begonia
,
begonias
,
Berries
,
blueberries
,
Blueberry
,
Broccoli
,
Bulb
,
Cabbage
,
carrots
,
Cat
,
Chard
,
Coffee
,
Compost
,
Cucumber
,
Curb appeal
,
daffodils
,
dog
,
Elder
,
Fertilizer
,
Frost
,
Fruit
,
Gooseberry
,
Health
,
Hedge
,
Herb
,
Herbs
,
Hydrangea
,
Iris
,
Landscaping
,
Magnolia
,
Marigold
,
Nitrogen
,
Onion
,
Orange
,
Osier
,
Parsley
,
pepper
,
peppers
,
pH
,
Pollinator
,
popular
,
Potato
,
potatoes
,
Purple
,
Radish
,
radishes
,
Recipe
,
Rhododendron
,
Rhubarb
,
Rose
,
Salad
,
Shrub
,
Shrubs
,
strawberries
,
Tea
,
tomato
,
Tree
,
Vegetable
,
Vine
,
Violet
,
Weed