Fixing deteriorated concrete patio is usually a priority because it's an eyesore, can cause personal injury and can lead to bigger problems with higher costs down the road. It's a big negative for quiet enjoyment of a house, or when trying to sell a house. It's a must in every home that concrete patio is repaired so that it looks good, from the inside out. We used to think that concrete surfaces could stand the test of time, so many households prefer making their existing concrete patio surface permanent because it looks like a new patio for a long time.
However, since concrete patios are exposed to the elements and the changing weather, not to mention the constant foot traffic and ground movement that causes wear and tear, we often see damage to concrete, including a concrete slab falling out, concrete cracks appearing from different sides, and sometimes, a crumbling concrete porch.
This is exactly why it is important to remember that even though a concrete patio is much more durable compared to ones made of wood or other materials, they still need care and maintenance so it doesn't turn into a pitiful patio and an unattractive space.
How To Repair Concrete Patio and Surfaces
To start off, you might be thinking that having freshly poured concrete all over your patio can patch things up. Wrong. It's not enough to rely on just having a resurfaced concrete patio in hopes of making your patio surface look great again. The real deal is using the right concrete repair products and understanding the methods on how you can rescue your old concrete patio from total destruction.
There are many ways that you can bring back the appeal of your concrete patio and prevent it from deteriorating any further. You just need to be knowledgeable about the proper care and maintenance, or if worse comes to worst, you can call in a professional concrete contractor to help with the restoration.
Either way, here are some of the common things you can do to rescue a deteriorating patio:
1. Seal Common Concrete Cracking
One of the things you can do to rescue your concrete patio is to seal the cracks. You can use a concrete crack sealer to do the job. Concrete crack sealers are special sealants formulated to fill and seal cracks in concrete. Applying a concrete sealant is an easy task that anyone can do. All you need is a caulking gun, a putty knife, and a bucket of sealant, which you can buy at any hardware store.
Sealing your common concrete cracking can help make your patio look smooth again. It can also help prevent the growth of weeds and grass in between the cracks. If you want your concrete patio to look polished and perfect without any cracks along the way, sealing is the best way to do it.
You can do the sealing by yourself or you can hire a professional to do it for you. If you want to do it by yourself, carefully read and follow the manufacturer's instructions. Otherwise, you might ruin the aesthetics of your patio because of uneven patches from the sealing process.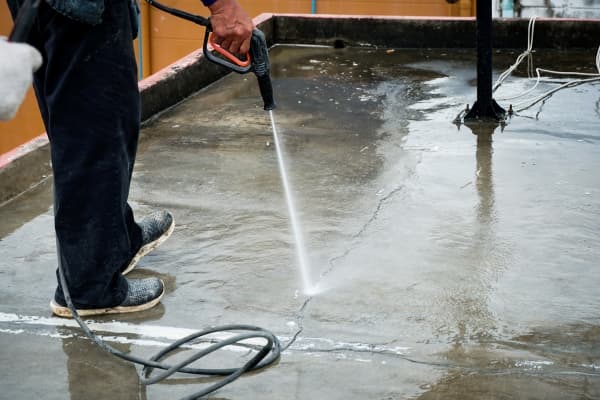 2. Clean and Seal Stained Concrete
If your patio is stained, you can use a concrete stain remover to clean it up. After that, you can apply a concrete sealant to protect it from staining again in the future. You can also use concrete cleaner by applying a thin layer of it on the stained surface and scrubbing it with a stiff brush. Rinse the surface with water afterward and let it dry completely before sealing it. You can buy a concrete sealant at any hardware store.
Stained concrete enhances the appearance of your patio and makes it look more polished. It is also good to seal your concrete patio every 2 to 3 years to make sure that it remains protected from staining.
For more thorough cleaning, you can use a pressure washer to clean your patio. A pressure washer is a cleaning tool that uses high-pressure water to remove dirt, grime, and stains from surfaces. Using a pressure washer can get rid of the deep-seated dirt from your patio, making sure that your stained concrete's color will still look like how you saw it for the first time. It is good to power wash your concrete patio every year or so to keep it looking clean and new.
3. Covering Crumbling Concrete With Pavers
It would be best to cover up crumbling corners with pavers as soon as possible to remedy the damaged concrete. Pavers are a good choice for covering up a crumbling concrete slab because they are durable and can withstand foot traffic and the changing weather.
In addition, pavers come in different colors and sizes, so you can choose the ones that will best match your patio's design. Pavers are also great at hiding the seams between the concrete slabs, making your patio surface look more polished. Furthermore, pavers will also help extend the life of your patio.
If you aren't sure how to cover up the crumbling corners of your concrete patio with pavers, you can hire a professional to do it for you. The professional would be able to give you sound advice on what type of pavers to use and how to install them properly.
4. Resurface With a Concrete Overlay
Resurfacing is often recommended by many home improvement experts. Look into this before you decide on calling a professional company to overhaul your patio. Resurfacing can help you save lots of money rather than dismantling your concrete patio, which can be very expensive.
Resurfacing also helps hide any unsightly blemishes on your patio surface, making it look new again. You can say that it acts as a protective coating as well. In addition, resurfacing can lengthen the life of your concrete patio by up to 10 years.
There are many types of coating that you can use for resurfacing your concrete patio. Some of the most popular ones are acrylic, polyurethane, and epoxy. Among the many types of coating available to you, you must choose one that would be most compatible with the climate in your area.
Resurfacing only works if you do it properly, so if you are unsure of how to do it, it is best to leave it to the professionals. Avoid wasting money by trying to do it on your own, only to enlist their help later because you didn't do a great job. Moreover, professionals would be able to advise you on the kind of coating to use and how to apply it so that you may get the most out of your money.
5. Seal and Repair Expansion Joints
Expansion joints are the joints between two concrete slabs that help prevent the concrete from cracking. When these joints are not maintained and sealed, they can start to deteriorate and become a point of entry for water and other debris, which is why these are one of the most important features of a concrete patio.
Basically, the expansion joints enable the concrete slabs to expand and contract without cracking and they are usually filled with a flexible material such as asphalt, caulking, or foam. Over time, the expansion joints can become dry and cracked, which can cause the concrete slabs to crack.
It is important to check on your expansion joints now and then and make sure that they are still in good condition. If you notice that the expansion joint sealant has already dried out, you can remove it and replace it with a new one. To repair the cracks on your expansion joints, you can use a concrete patching compound. By sealing and repairing your expansion joints, you can prevent your concrete patio from cracking and deteriorating with time.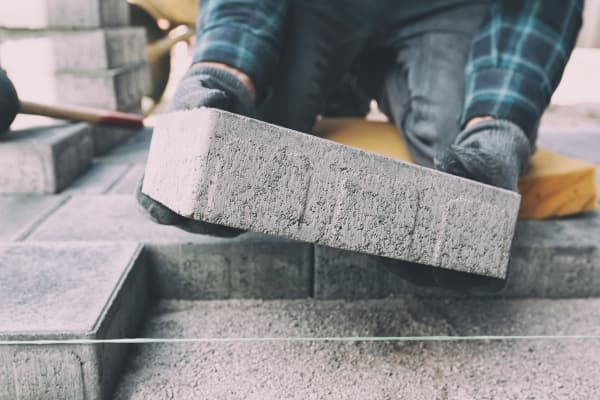 6. Replace Damaged Concrete Slab
If the damage to your concrete patio is too severe, you might need to replace the entire concrete slab. This is a more expensive option, but it would be worth it if your patio is beyond repair.
When replacing the concrete slab, make sure you choose a high-quality and durable material. You can ask professionals for advice on what type of concrete you should use. Also, make sure to ask about the weather conditions in your area and how that might affect the durability of the concrete.
Don't forget that since you are replacing your concrete, you need to have a solid foundation for your new concrete slab. The foundation should be able to support the weight of the slab and any furniture or equipment you might put on it.
7. Enlist the Help of Professionals
Lastly, if you don't have any idea how to save your crumbling concrete patio, are clueless on how to pour concrete properly, or if you're not sure if you're saving your patio correctly, don't hesitate to enlist the help of professionals. There are many companies that offer patio resurfacing services, so it shouldn't be hard to find one.
Professionals have the knowledge and experience in taking care of concrete patios, so you can be assured that your patio will be in safe hands. Before you book for a repair, always do your research and ask around for recommendations to find the best company to take care of your patio.
Some of the things you should consider when hiring a concrete repair company are their years of experience, the type of coating they use, and the reviews from their previous clients.
Final Thoughts
Concrete patios are a common feature in many homes today. They are sturdy, durable, and can last for many years with proper maintenance. However, even concrete patios can deteriorate over time if not taken care of properly.
Saving your existing concrete patio, and even your crumbling concrete porch, does not have to be a daunting task. You just need to be mindful of the things that can cause damage to your concrete and take the necessary steps to prevent it from happening. With a little effort, you can have your concrete patio looking as good as new in no time!
Author Bio:
Pearl de Guzman is a contributing writer at Onfloor Technologies. She covers all home-related topics including home improvement, gardening, and landscape.