Fritzflohrreynolds, CC BY-SA 3.0 via Wikimedia Commons
Zigzag Goldenrod, also known as Solidago flexicaulis, is distinguished by its toothed, broad-ovate leaves and the shape of its stem. The name comes from the shape of the stem and the way it zigzags between the nodes. It is a rhizomatous perennial native to eastern North America's rich woods and thickets. The zigzag goldenrod is a sunflower family perennial that blooms in yellow clusters from July to October.
Butterflies, honey bees, swamp sparrow pollinators, butterflies, and caterpillars from various moth species are drawn to zigzag goldenrod. It tolerates drought well and makes an excellent cut flower. It's a great addition to rock gardens and one of the season's last pollinators.
Quick Growing Guide
Botanical Name: Solidago flexicaulis
Also Called: Broadleaf Goldenrod
En français: Verge d'or à tige zigzagante
See More Plants in this Botanical Family:
Water: Low to moderate need for water.
Goldenrods are commonly mistaken for causing hayfever which is actually caused by windborne pollen from other plants such as ragweed.
Where to Plant
Its natural habitat includes open deciduous woods, rocky woods, floodplain forest edges, wooded stream banks, limestone glade edges, and cliffs. It is suitable for cottage gardens, low-maintenance plantings, meadows, perennial borders, roadside plantings, and restoration projects. This plant adds fall colour to any garden.
Aster cordifolius, Chasmanthium latifolium, Chrysogonum virginianum, Eupatorium colestinum, Heliopsis helianthoides, and Amsonia hubrichtii are all good companion plants.
Propagating Solidago flexicaulis
Propogate by either seeding or root division. This plant will spread on its own. Goldenrod can be considered aggressive and is therefore not recommended for small gardens.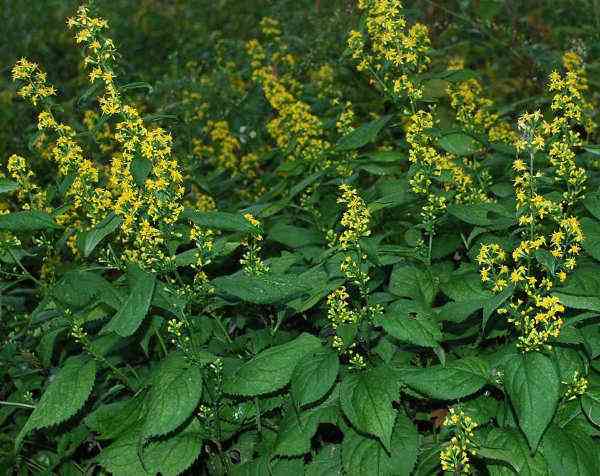 Caring for Zigzag Goldenrod
Solidago flexicaulis is an easy-to-grow woodland species that prefers sun-dappled part shade but will also grow in full shade. Established plants can tolerate dry soils. Plants can be grown from seed, and they can also self-seed in the garden. Plants can spread through rhizomes.
Although there are no serious disease or insect problems, keep an eye out for powdery mildew and leaf spot.
Other Goldenrods
Discover the differences among many these goldenrods.
They each have their own uniqueness.