Jean Carr
Smooth Solomon's Seal (Polygonatum commutatum) is a drought tolerant perennial for the shade garden, native to Ontraio and Eastern North America. It adds a unique architectural structure with its arching foliage and white bell shaped flowers that dangle along the leaves. It is rhizomatous with lustrous, alternate leaves.
You might be interested in learning more about the False Solomon Seal or the Starry Flase Solomon Seal.
Quick Growing Guide
Botanical Name: Polygonatum biflorum
Also Called: Great Solomon's-seal, Solomon's seal
En français: Sceau de Salomon
See More Plants in this Botanical Family:
Water: Moist (careful not to over water)
In autumn the leaves of Solomon's seal turn a vivid and saturated yellow, shading fat purple fruit, and adding unexpected perennial color to the chilling garden.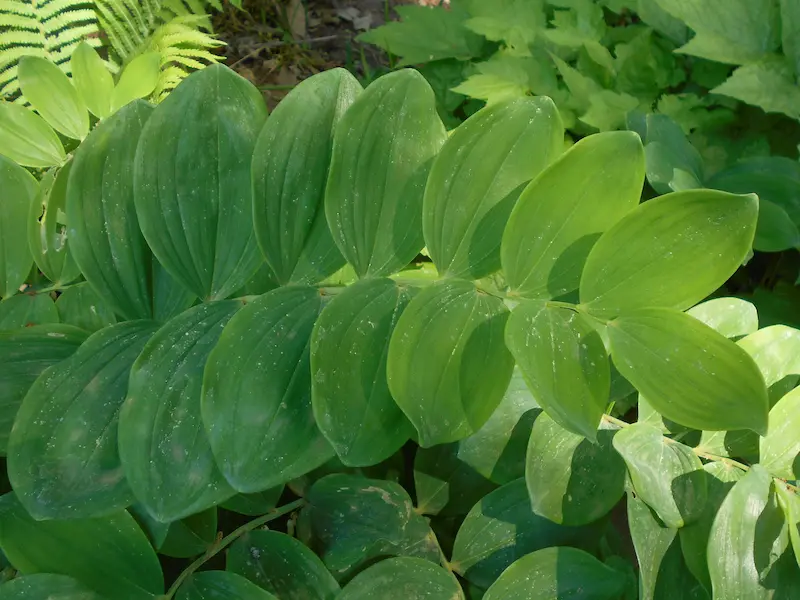 Caring for Smooth Solomon's Seal
Easily grown in part shade to full shade in ordinary, medium-to-moist, well-drained soil. Soils should be wet and humusy. In ideal growing conditions, rhizomes slowly expand to create colonies.
Dividing Rhizomes
In the spring and fall, you can divide the plant's thick roots. Carefully dig out the rhizomes and separate parts from the knotty root segments. Transplant them to other parts of the garden.
Companion Plants
Smooth solomon's seal may be found in nature along forest borders, woods, meadows and fields, and woodlands. It is suitable for use in a cottage garden with slightly shaded borders or in rock gardens. Astilbe and ferns are good companion plants.