Julie Anne Workman, CC BY-SA 3.0 via Wikimedia Commons HTML
Foxglove Beardtongue is a fantastic addition to native plantings, wild gardens, cottage gardens, and naturalized areas. Plant a solitary plant among shorter companions that have vibrant green foliage to create a specimen, or group several plants together to create a mass of dark foliage and numerous white flowers. It performs well in rain gardens despite sporadic dry and wet circumstances (but not always wet soil).
Penstemon digitalis is one of the few Penstemons that thrives in clay. Gardeners in our neck of the woods appear to simply call it penstemon. It is a favorite because it is a clump-forming perennial, meaning it does not spread uncontrollably. It thrives in full sun to mild shade and tolerates seasonal moisture. Beardtongue bell-shaped flowers make a visual statement. They grow 3-5′ tall and are drought tolerant, attract pollinators (hummingbirds specifically), are strong as nails, and are deer resistant.
Quick Growing Guide
Botanical Name: Penstemon digitalis
Also Called: Smooth penstemon, White Beardtongue
Water: Does not require a lot of water and is drought tolerant
Where to Plant
It may be found in fields, meadows, and along boundaries in nature. If you want to use it in your garden, grow it in masses in sunny borders, wild gardens, pollinator gardens, native plant gardens, naturalised areas, or rain gardens. The white bell-shaped blossoms last a month or more and complement the blue flowers of Ohio Spiderwort and Blue-Eyed Grass. It is excellent for bouquets with freshly cut flowers.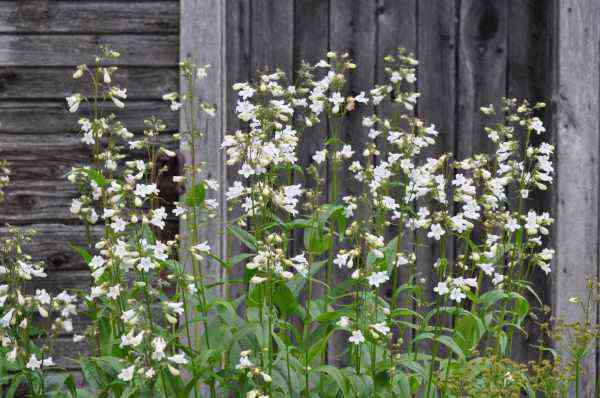 Companion Plants
For stunning red and gold fall colors, combined with the Virginia day flower, which blooms at the same time, or the gray goldenrod. Baptisia 'Purple Smoke,' Hydrangea quercifolia, Fothergilla gardenii, and Rudbeckia fulgida 'Goldsturm' are also suitable companions for this drought-tolerant shrub.
Caring for Penstemon
When planting, deeply and slowly moisten the ground around the roots. When the soil is dry, or there is a drought, keep the soil moist until the plant is established, then add enough water to properly saturate the root zone. Change water advice to take site drainage and rainfall into account. Mulch the planting area by 3″ deep. Mulch must not come in contact with the stems of the plant.
Once established, beardtongue does not need a lot of water. Grow them in average, dry to medium-moisture, well-drained soil in full sun. Avoid wet, poorly drained soils.
Pruning
Cut the bloom stems once they have turned brown for a neater appearance. If the flowers are not deadheaded, seed capsules with a rounded to egg-shaped form follow, which can add some decorative appeal as they last into the first few months of the year. The numerous tiny, sharply pitted, and irregularly angled dark seeds are released as the dry seed capsules crack open.
Propagation
They propagate happily through their seeds. Just like the Hairy beardtongue, deadhead after flowering unless seed is needed. You can propagate also them by dividing their clumps in late autumn or early spring. In any event, you should divide their clumps every 3 to 5 years as a means of managing their appearance. Plants will self-seed; however, the leaf of the offspring might not be as deep-purple as the parent plants. Penstemon is short-lived and will need to be periodically reseeded.
It is the perfect plant for a rain garden because it can withstand drought and thrive in moist soil. Despite the plant's brief lifespan, visitors can enjoy its showy foliage for its aesthetic appeal.
Problems
In moist, inadequately drained soils, root rot can develop. Leaf spots are a sporadic issue. Spreads a little vigorously in a garden environment. Deer typically avoid this plant.
Pollinators
According to the hummingbird society, their bell-shaped blooms are nectar-rich, making it one of the greatest plants for attracting hummingbirds. The bottom lip of the flower also bears purple stripes that direct bees to the nectar reward deep within the bloom's throat. Because they draw butterflies, bees, and hummingbirds, the blossoms of this plant are attractive and useful.
Pests
Be mindful to watch for slugs, snails, and mites.