The Tomatillo plant, an odd-looking distant tomato cousin and one of the essential ingredients in Mexican cuisine, especially recipes of green tomatillo salsa. These wild growing central American natives and member of the nightshade family are commonly found in local markets. Fresh tomatillos boast a sweet citrusy flavor.
Growing tomatillos and tomatoes sounds similar in name, and both have similar growing needs, but that is all. Ripe tomatoes come in bright fleshy colors, while the tomatillo (pronounced to-ma-TEE-yo) looks much different with a dry, papery husk surrounding the fruit. Hence the name – husk tomato.
Tomatillo Plant Quick Growing Guide:
Scientific Name: Physalis ixocarpa and Physalis philadelphica
Family: Solanaceae (Nightshade)
Origin: Mexico
Common Names: Large-flowered tomatillo, Mexican groundcherry, Mexican husk tomato, Mexican green tomato, Strawberry tomato, Tomato verde, Jamberberries, Miltomate
Uses: Slightly tart green or yellow fruits are staples in Central American and Mexican cooking. Used in green sauces, salsas, stews, and moles (mo-lehs). Very popular for use in preserves and jams. Very high pectin content that makes them perfect for this use.
Height: 2-4 feet
USDA Hardiness Zones: 5-11
Flowers: Tomatillos bloom in a number of colors including Pale green, Yellow, Purple, White. Some flowers have purple splotches in the center. Anthers may range in color from pale blue to deep purple. The plants are not self-pollinating, so two plants for good blossom and fruit production.
Fruit: Each fruit is encased in a papery husk which is not edible. The maturing fruit gradually fills the husk and may split it open just before harvest time. When the fruit is ready, the husk becomes brown. Ripe fruit may be green, yellow or purple depending upon the cultivar.
Foliage: The thick, dark green leaves have irregular indentations along the margins. Some leaves are smooth, and some are slightly furred.
Tomatillo Plant Care Requirements: Tomatillo plants do well with average, well-drained soil. These hardy, tropical natives like full sun. Before planting, amend the soil with a balanced, organic fertilizer. Space plants 2-3 feet all around to provide ample room for growth and spread. Sow seeds indoors late in the spring. Set seedlings out after all danger of frost has passed and the soil has warmed. Planting two seedlings per hole ensure good pollination.
Miscellaneous: Harvest tomatillos when the husks turn tan, and the ripe fruits begin to fall. Fresh fruits can be refrigerated for a couple of weeks. To keep them longer, remove the husks and freeze them whole. Wash them well before using as the husks tend to leave a sticky residue on the fruit.
Tomatillos may not produce much fruit until late in the season. If your fruits are not yet ripe before predicted cold weather, go ahead and harvest them anyway. Green fruits have a very tart, citrus flavor which many people prefer. Tomatillos do well when planted alongside corn and sunflower plants. In warm climates, they maybe self-seeding. [source]
Growing Mexican Green Tomatoes
These unusual plants can grow in a separate bed, a mixed garden or as container plants. As noted, it's important to keep at least two of them close together since they are not self-pollinating and will not produce much (if any) fruit as individual specimen plants.
In the garden or a container, you need to give Mexican husk tomato plants plenty of room. Healthy plants can have a height and spread of three or four feet. This makes a pretty display with their interesting, fruits. A husk tomato border around your garden or a patio or deck can provide privacy, interest and good eating!
These plants grow year-round with an indeterminate growth habit in warm areas (like Mexico).
For colder climates, grow tomatillos as annuals and care for in the same way you would take care of tomatoes.
In very warm climates, they are self-seeding and/or you can sow the seed directly in the ground. In cooler climates, it's best to start seeds indoors six or eight weeks before you plan to plant them outdoors.
Be sure to harden seedlings off carefully to prevent shock and plant loss.
Begin by putting the young plants in a protected, shady area. Gradually move them into areas with more sun for longer time periods. Be careful to provide them protection or bring them back indoors if frost is predicted.
Fertilizing Tomatillos
These are not really hungry plants, especially when compared with their cousins, traditional tomato plants. Till a good, balanced (10-10-10) fertilizer into the soil before planting. This should be applied evenly at a depth of four-to-six inches and a rate of one or two pounds per hundred square feet of soil.
Water Deeply Occasionally
For the best crop, it is important to provide the right amount of water and to keep weeds under control. Deep water once a week during dry weather. The plants should receive 1-1 ½ inches of water weekly applied slowly at the soil level.
Don't allow weeds to compete with your tomatillos for sun and water. Hoe around the plants regularly and/or provide a good, thick layer of straw, leaves or dry clippings to retain moisture, control weeds and conserve the soil.
Tomatillo Plant! Grow a staple of Mexican cooking in YOUR garden! [embedded content]
Tomatillo Varieties And Cultivars
These plants are available in several cultivars, so it is possible to create a very interesting and tasty collection!
Pineapple Tomatillo produces copious amounts of round fruits that are almost an inch in diameter. The plants tend to be short and to spread. True to its name, the fruit has a distinctive pineapple flavor.
Zuni hails from the northern part of New Mexico. Developed by the Zuni tribe of Native Americans it produces very tasty, cherry-tomato-like fruits.
Purple De Milpa produces large fruit with a very strong and pleasing flavor. The purple striped husks provide visual interest in the garden.
Verde Puebla continuously produces sweet/tart, green fruits weighing between one and two ounces each.
Toma Verde produces lots of large, sweet/tart, green fruit on vines. This plant is very easy to grow.
Purple Tomatillo is an enthusiastic producer of small, sweet/tart, purple fruit.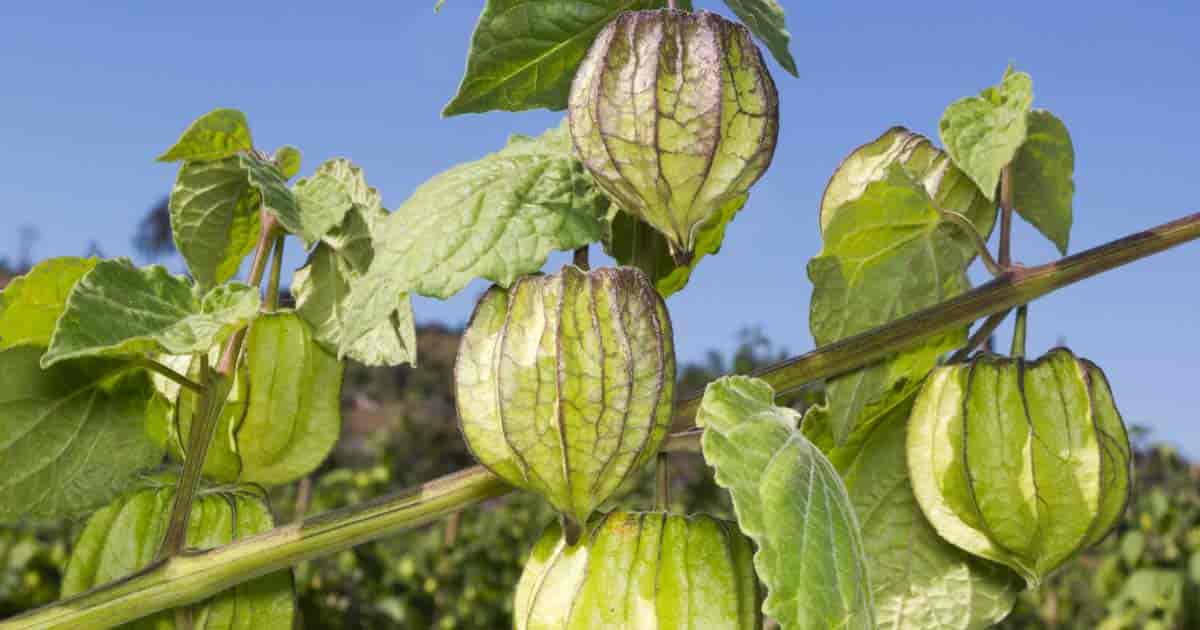 Tomatillo Pests and Problems
Mexican ground cherry is subject to foliar diseases and blights if the weather is very rainy and humid. This is why it is important to give plants plenty of space for good air circulation. If plants tend to topple or lean, stake them up. Prune crowded branches to promote air movement.
Always water at ground level and avoid spraying or foliar watering. Don't allow water to splash up from the ground onto the leaves as this can promote fungal infections and disease.
Examine your plants regularly. If you notice any signs of fungal infection developing, use a good fungicide right away to prevent spread.
These plants are not typically susceptible to insects, but they are subject to infestation by slugs and snails. Be sure to stake the plants up as needed and don't allow the fruits to touch the ground as this will attract these pests. Cutworms may also be problematic. These are moth caterpillars that come up onto the plants from the soil. You can prevent them by setting up physical barriers around plant stems made of sections of paper-towel rolls.
Picking these large caterpillars off by hand is also effective. If you have a heavy infestation, use Bacillus thuringiensis (Bt) which is a natural pesticide that only affects caterpillars. Follow packaging instructions carefully, and don't overdo it as you want to target the pest caterpillars and avoid killing butterfly caterpillars.
Harvesting and Storing Tomatillos
Growing tomatillo seeds is like growing tomato seeds. It takes between seventy-five and one hundred days from the time you plant your seedlings until your fruit is ready to pick. Watch for the husks to change colors from green to tan. When this change happens, it is time to harvest. Of course, there is some variation in coloration depending upon the cultivar.
The best fruits are firm with tightly-fitting husks. For tangier flavor, you may wish to pick your fruits a bit early while they are still green. For sweeter, milder flavor, wait until the fruit has turned yellow or purple. If you leave your tomatillos in the husk, you can store them in the refrigerator for as long as two weeks. If you remove the husks, they will keep in the fridge for up to three months. You can also freeze them whole or slice them and freeze them. [source]
How To Use Tomatillos
When preparing your tomatillos, be sure to remove the husk and wash the fruit completely to remove any dirt and the sticky residue left on the skin by the husk. Once the fruits are clean, prepare them for use by cutting off the stems with a sharp knife and slicing or chopping them as desired.
There are lots of wonderful Mexican recipes using tomatillos, and you can also simply add them to your usual, everyday cooking. You can eat tomatillos raw if you like. They taste tart and zesty, so they make a nice addition to a sweet fruit salad. When cooked, the flavor mellows to an herby, lemony taste. For a simple dish, you can cut them into quarters and sauté them with onion, garlic and sea salt. They also add zip and interest to veggie dishes, soups and stews, or you can simply boil them and then puree them for use in sauces.
Growing Tomatillos – Video
Tags:
Apple
,
Berries
,
Berry
,
Blossom
,
Carp
,
Cat
,
Caterpillar
,
climate
,
Cutting
,
Deck
,
Fertilizer
,
Frost
,
Fruit
,
Fungi
,
Garlic
,
Hardiness
,
Hardiness zone
,
Health
,
Herb
,
Hoe
,
Insects
,
Moth
,
Onion
,
Organic fertilizer
,
Outdoors
,
Patio
,
Pectin
,
Pest
,
Pesticide
,
Pet
,
pH
,
Pine
,
Pollination
,
Purple
,
Recipe
,
Salad
,
Seedling
,
strawberries
,
Sunflower
,
tomato
,
Towel
,
Video
,
Vine
,
Vines
,
Weed